Tribune photo from June, 1958
The flag is down as the cars leave the starting line at the Ames Drag Strip south of town. That means that one of the safety crews under the direction of track steward and the Nightcrawlers Club's chief reference man Bob Lambert has checked and OKed the cars on at least 30 points of safety.
  Bud Overland and J. D. Armstrong helped construct the drag strip operated by the Nightcrawlers. The photo above faces east from behind the Solar Inn south of Ames on Highway 69.
Learn more
about the Ames Nightcrawlers and the their Drag Strip.
EDUCATION -- Greg Gammack (right) and Keith Munson check the r.p.m. on Gammack's 1923 Model T Roadster with a 1956 Chevrolet V-8 engine.  The car is on the lawn on the west side of Central Junior High School where the boys are enrolled in the school's auto mechanics class taught by Leonard Bengtson.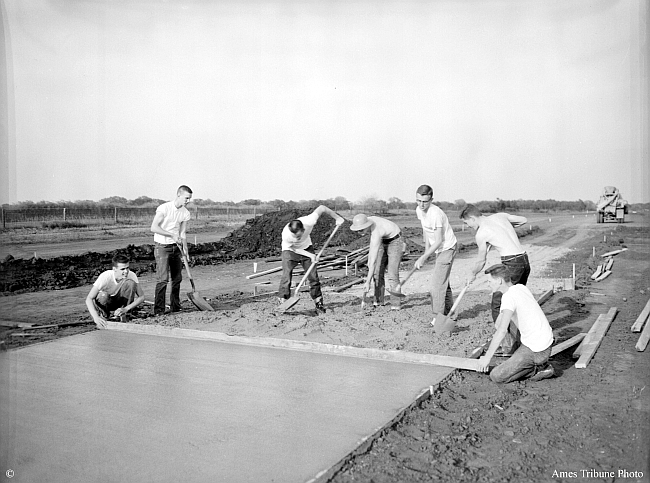 FUN -- It may look like work but when there are this many at it, it becomes fun.  Members of the Nightcrawlers club are shown working the concrete that makes up the 260 foot starting chute at the Ames Drag Strip which they operate.
STARTING LINE - Stirling Clink, about to get into his 1933 Ford, and track officials, look over the strip after Clink made some last minute adjustments before racing at the Ames Drag Strip Sunday.  Letters and numbers on the side window signify car class and entrant number.  Clink won the drag but failed to win his class.
Ames Tribune article from June 2, 1958
GREAT WEATHER BRINGS OUT 35 CARS AT STRIP
Sunny skies and the improved facilities brought out about 35 cars to the Ames Drag Strip for competition Sunday for the first really good weekend at the strip for the year.  The late morning time trials produced a faster time for the quarter mile than the trophy runs later in the day.  Gregg Gammack, local Nightcrawler clubber, hit the finish line with a fast 15.82.
Even though the track was in the best condition so far this year, most times seemed to be slightly off the expected speeds as much as a second.  This could be attributed to the large percentage of entrants who were from out of town and unaccustomed to the track, and also to the particularly hot concrete starting pads.  The concrete was so warm that more than an average amount of rubber was left at the strip.
Other classifications, car type, time, winner and his home town include :  SSA, '58 Chevy, 16.23, Donald Nason, Conrad; SB, '56 Chevy, 17.36, Micky Greg, Kelly; SBA, '57 Chevy, 17.78, Jerrey Jetter, Webster City; SC, '55 Chevy, 18.00, Gene Gore, Ames; SD, '52 Olds, 18.41, Meryl Richardson, Kelley; SE, '58 Volvo, 19.00, Gerry Livingston, Ames; SF, '32 Ford, 20.80, Ben Jameson; CB, '34 Ford, 16.26, Bob Wentworth, Waterloo; CC, '58 Chevy 15.95, Gunner Overland, Ames.