I attended K-6 at Roosevelt, starting mid-way through the kindergarten school year of 1951-52, having started kindergarten at Meeker when it was brand new before our family moved to 1402 Ridgewood.  I was a baby boomer, and before long, our entire neighborhood from 13th Street, Crescent, and Summit to the dead-end at Ridgewood near 16th Street was full of kids.  It was a wonderful time.  All the kids walked to school in the morning, walked home for lunch, and back for afternoon classes.  We had a few kids who lived on farms who stayed in and brought their lunches in lunch buckets.  We thought that was pretty neat.
I still remember a lot about my school days at Roosevelt.  They were full of fun and learning.  I had great teachers, although I can't remember all their names now.  Kindergarten - Hallmark; 1st - Jennings, I think; 2nd - can't remember; 3rd - Meads (absolutely lovely woman); 4th - Larson (a wonderful woman.  I ended up buying her '54 Ford when she traded it in at Mathison Ford); 5th - Coe (another lovely person), 6th - can't remember (she was young, not the motherly type).  I may have gotten Meads and Larson mixed up as far as which grade they taught.
Recesses were very special.  We anticipated them, and all the boys would rush out the doors yelling SOCCER! at the top of our lungs.  That was about all we played at recess, as I recall.  I don't know what the girls did.  Winters were another story, of course.  We also had the jungle gym, swings, teeter totters, merry go round, and the greatest currently nonexistent playground item of all, the Giant Strides.  In case you might not know what that was, it was a tall steel pole imbedded in the ground with handles attached to steel chains suspended from the top of the pole.  You would grab hold of the handle and run around the pole fast enough to become airborne.  What a thrill!  It's a wonder nobody was ever seriously hurt on some of the stuff we played on.  But no one ever was, and now our kids only know the perfectly safe stuff.  I guess it's OK, but they don't know what they missed.  Even our swings had hard seats, which would let you eject from them at a high altitude to see how far you could fly out.  We would all line up by class to go back into the building.  If you were in 6th grade, you had the primo location, and were looked up to by the underlings.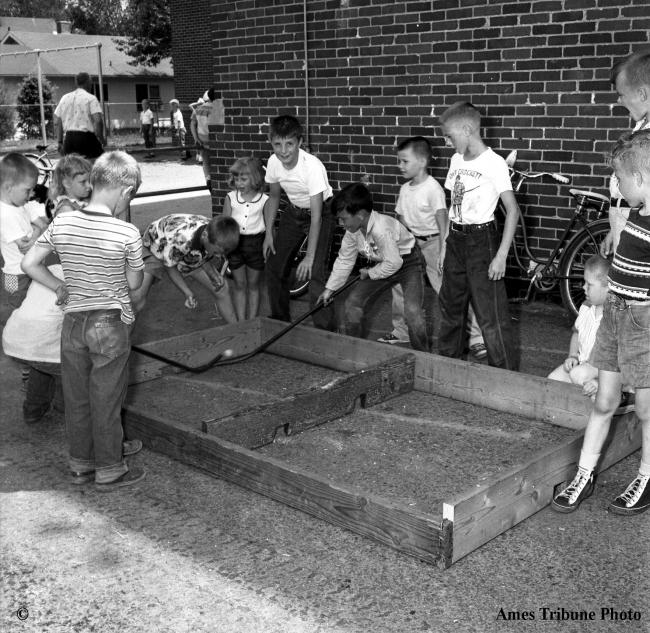 Box Hockey was a popular activity on the Roosevelt School playground throughout the summer. Played with iron hockey sticks and a golf ball, the object was to shove the ball through a mouse-sized hole at the opponent's end of the box. An enthusiastic group of onlookers was almost sure to gather, adding to the excitement. In this photo, Gary is the boy in the middle-right with the Davy Crockett shirt on.
Art was something we looked forward to.  We would go to the basement and they had big buckets of modeling clay that we would get a big bunch of and make into something.  What that something was was usually pretty hard to tell, but it was fun, nevertheless.  We also would go to the basement for movies and even for square dancing lessons.  In the summer, the basement was used for the summer Playground program, which also featured box hockey.  This probably had the greatest potential to seriously hurt someone of all playground activities I was ever around.  If you're not familiar with it, it involved hitting a golf ball through holes in a wooden box set up like a hockey rink, with steel pipe hockey sticks.  Nobody I knew ever got hurt, but wow, I couldn't imagine that in these times.  Sad.
Just getting to school was an adventure.  After a while we knew all the cracks in the sidewalk between home and school.  We would often stop at the Little Green Store, which I believe today to be Kelly's TV repair, at the corner of 9th and Northwestern.  That's another whole story, the time the hundreds of us kids spent in there, buying bubble gum, candy bars, kites, little planes, and yo-yo's.  This was the time in which Roosevelt would have a yo-yo expert from Duncan Yo-yo Company come to the school as part of some schedule, and demonstrate what you could do with a Duncan Yo-yo.  If you had a new Duncan, he would carve your name in it.  It was great to see him do the tricks we only wished we could do!
We had the school patrol to provide safety at intersections that needed to be crossed by the kids on the way to school.  If you were on the patrol, you were given a special belt to wear that crossed over your chest with a big badge on it.  You would walk into the intersection and hold out your arms to stop any oncoming traffic.  Seems now like a big responsibility for an 11 or 12 year old.  We thought it was pretty cool.  I was the captain, and my job was to patrol all the intersections to make sure the guards were there.  I got in trouble for spending most of my time at the intersections where Carolyn Randecker had her duty.  You could have a crush in 6th grade even then.
My last recollection is a silly one.  There was a vent of some kind with a steel grate over it next to the northwest entry doors.  On weekends and summer, if we were at the playground, and no one was around, we would climb up and get on it.  There was a window in the 1st grade room facing west that you could see into what I believe was the coat room.  Why we thought this was a big deal, I'm not sure now.  Probably because it presented a risk of being caught and getting into trouble.
Roosevelt 5th Grade Class
Back row: (?), Saren Brown, Virginia Jones, Freddie Myers, Mike Schwartz
Third row: Marilyn Quam, Barbara (?), Tom Harsh, Mike Fellinger, Jim Wright, Barbara Banks, (?), Randy Hatfields, (?) Chuck Williams
Second row: Joanne Rademacher, Cynthia Nordhagen, Janet Olson, David Wilson, Paulette Larson, Mary Walch, Kent Hildreth, Carolyn Randecker, John Hanway, Gary Hall, Ken Adams
Front from left: Betty Reitz, Bill Wickersham, Ron Kayl, Tom Barton, Joyce Craig, Sue Mathison, Joy Thorson (?)
I wish Roosevelt was still going strong.  I would not trade my memories of attending school there for any amount.  They were wonderful years full of fun, learning, and great teachers.  My daughter has attended all her schooling in California, where I spend my winters now.  I only wish that she could have experienced some of the magic of going to Roosevelt Elementary School in the 1950's.  Roosevelt will always be a part of me.